Regular price
$99.99 USD
Sale price
$59.99 USD
Unit price
per
Sale
Sold out
Ultrasonic Handheld Portable Nebulizer with Two Modes for Breathing Problems that can be used at Home, Office, or Outdoors.
Aldricx® Upgraded Nebulization Ability
It can bring a tinier spray, 80% atomized particles in each atomization≤8µm. Its condensation rate≥of 0.2ml/min gets you back to a comfortable state faster.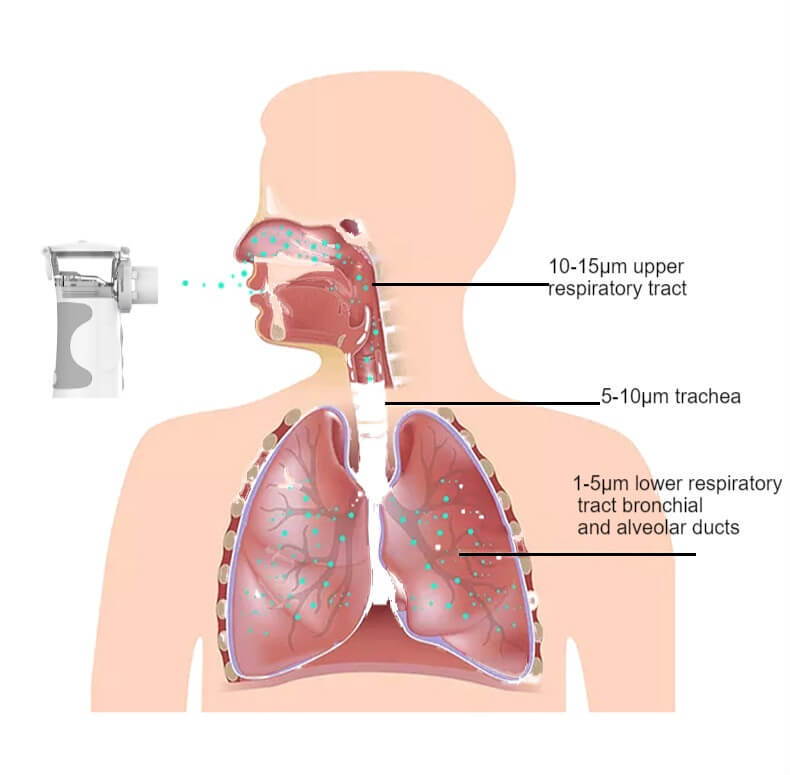 Superfine Aerosol Particles
Comparing to many traditional ultrasonic nebulizers with atomized particles (only deposit in the mouth and throat), Aldricx® nebulizer delivers particles not only to the upper respiratory tract, but also to the trachea, bronchi, and alveoli, directly provide treatments to the affected area.

Two Operation Modes 
This item has two operation modes, the first one is a mild mode recommended for children. After turning it on, press the button again to use the strong mode suitable for adults. Choose the mode you need!

Automatic Switch-off & Cleaning Function 
Our nebulizer will switch off automatically when the medicine/liquid has been almost entirely used up. It is also equipped with an easy-to-operate automatic cleaning function, just remove the accessories, remove the remains and add water, turn on the equipment to start the cleaning.

Quieter Nebulization 
Newly upgraded nebulizer's sound level<15dB, will keep silent for you!
A nebulizer turns liquid medicine into a very fine mist that a person can inhale through a face mask or mouthpiece. 
Doctors typically prescribe nebulizers to kids and adults with one of the following lung disorders:
asthma 
chronic obstructive pulmonary disease (COPD)
cystic fibrosis
bronchiectasis
bronchiolitis
pneumonia
cough
Complete Accessories - A adult mask and a child mask are packed with the nebulizer for daily use of children and adults. We also prepared a mouthpiece, user manual, and USB cable for customers.


Attention
1. Make sure the product is not damaged before use.
2. If you feel uncomfortable and in pain, please stop using it immediately!
3. Please use the product away from the eyes.
4. Please do not use in the presence of flammable gas.
5. Please do not use the product near the electromagnetic transmitter.
6. Please do not use the product in a humid environment.
7. Please remove the battery when not in use for a long time.
8. If you find that the product does not work after installing the battery, please check the electrode symbol on the battery cover to confirm that your installation is correct.

Specifications
Power consumption: 2.0W
Oscillation frequency: 110kHz±10%
Particle Size: 1-5µm
Condensation rate: approx. 0.2 ml/min
Housing Material: ABS
Volume: max. 8ml
LED Indicator Light

 

There are two working modes.

Press the button, the product enters the mild mode, and the green light on the left lights up to show that it is working.

Press the button again, the product enters the strong mode, the product produces mist faster, and the amount of mist increases.

When the product can't work, the red light on the right will light up.

 

Two Modes of Power Supply

 

It can be powered by 2 X AA batteries.

It can be powered by a USB cable, and the USB cable can be connected to attaching plug or power bank.

Please be careful not to use the USB cable when the batteries are installed.

 

Package Included

 

1 X Nebulizer

1 X Adult Mask

1 X Child Mask

1 X Mouthpiece

1 X USB Cable

1 X User Manual

 
Share
View full details